Allan Armstrong has published an article entitled From Illusions in a Lexit Brexit to a Disillusioned Lexit from Brexit Politics (https://allanarmstrong831930095.files.wordpress.com/2020/06/socialists-and-december-12th-election.pdf)  The contents of this book are shown below, followed by the last two chapters and conclusion. This  article follows The Impact of the December 12th General Election across the Constituent Parts of the UK. (http://republicancommunist.org/blog/2020/01/24/the-impact-of-the-december-12th-general-election-across-the-constituent-parts-of-the-uk/)
__________________
FROM ILLUSIONS IN A LEXIT BREXIT TO A DISILLUSIONED LEXIT FROM BREXIT POLITICS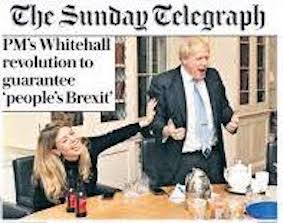 Telegraph backs Lexiters' 'revolution' and 'Peoples Brexit!
Contents
a)  The 2015 general election provided a warning
b)  After 2015 – an increasingly floundering Left
c)  Northern Ireland – a different pattern
d)  Reactionary unionism and Europhobic opposition to the EU
e)  The largest independent Socialist parties walk into the Brexit trap
f)  The official Remain and Leave campaigns – two wings of the British ruling class
g)  The Lexiters' false arguments
h)  The political options open in the run-up to the 2016 EU referendum
i)  From 23rd May, 2016 to 8th June, 2017 – A victory for the Left or the Right?
j)  'Independent' Socialists and 'Oh Jeremy Corbyn'!
k)  Corbyn and the 'independent' Socialists unwittingly help Boris Johnson to victory
l)  Independent socialists after the December 12th general election
m) Independent socialists in Scotland and Northern Ireland/Ireland
n) Conclusion
______________________
THE DECEMBER 12th GENERAL ELECTION AND INDEPENDENT SOCIALISTS ACROSS THESE ISLANDS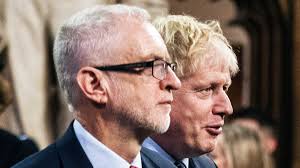 1. Independent socialists after the December 12th general election
On December 12th, Labour's vote share fell by 7.8% and its number of MPs decreased from 262 to 202. The Tories' vote share rose 1.2%, but its number of MPs increased from 317 to 365. The gap in the vote share was 11.4%, 32.2% for Labour and 43.6% for the Tories.[1] Not surprisingly a shattered Jeremy Corbyn offered his resignation, opening up the prospect of a new leadership campaign. Continue reading "FROM ILLUSIONS IN A LEXIT BREXIT TO A DISILLUSIONED LEXIT FROM BREXIT POLITICS – THE DECEMBER 12th GENERAL ELECTION AND INDEPENDENT SOCIALISTS ACROSS THESE ISLANDS"