THE REFUGEE CRISIS – AN OUTCOME OF CAPITALIST BARBARISM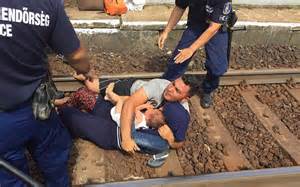 In response to the current refugee storm a Palestinian activist remarked that, if pictures of dead children changed anything, Palestine would long have been free.
The bitterness is understandable. However it would be wrong to write off the response to the refugee crisis as light-headed liberalism. Rather it is better understood as the potential to, as Marx said, transform from quantity to quality and become a broad opposition to the crimes of imperialism.
The capitalist powers have been exhibiting an increasing barbarism. Mass penury is imposed on their own populations. The wars they direct and provoke grow increasingly bloody. As refugees flee devastation they slander and criminalise them, applying a policy called "pushing the rope" – making conditions at holding centres so hellish that new refugees will not come. It is bare months since they withdrew rescue services from the central area of the Mediterranean, leaving thousands to drown. They constantly refer to migrants, because refugees are meant to be offered refuge and dismiss "economic migrants,"  as if fleeing starvation was bad and only war can be advanced as a legitimate reason for flight.
Continue reading "THE REFUGEE CRISIS – AN OUTCOME OF CAPITALIST BARBARISM"