This article, first posted by Socialist Democracy (Ireland) on the situation in Ireland following  the earlier successful repeal of the 8th amendment highlights the need to organise independently of the state.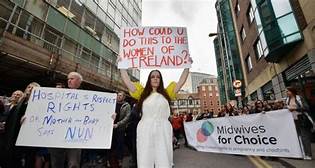 RENEGING ON REPEAL: A NEW THREAT TO ABORTION RIGHTS IN IRELAND
After a period of quiet relief following the repeal referendum the struggle around abortion rights is returning to the political agenda. The effect of the referendum was simply to remove abortion from the constitution and make it an issue for legislation.
It is now becoming evident that government proposals will be quite restrictive and that the battle will resume in the Dail when legislation is brought forward shortly. There is another issue that will not go to the Dail but is being settled in quiet negotiation between Fine Gael health minister Simon Harris and the Catholic Church about the transfer of ownership of the new maternity hospital to a private company controlled by the church. The nuns have made it clear that their ethos will prevail within the new company. Aside from the massive privatisation giveaway new legislative proposals that include a conditional freedom of conscience for medical practitioners means that abortion rights for the majority of women could be easily blocked. Continue reading "RENEGING ON REPEAL: A NEW THREAT TO ABORTION RIGHTS IN IRELAND"