This is an edited version the article, written by Eddie Ford,  which first appeared in Weekly Worker. This blog has often warned how the use of the Crown Powers could stymie any attempt to set-up an independent Scotland. This article provides a warning to those who look to Jeremy  Corbyn to lead a new Labour government. Under the Crown Powers the British establishment can call on the monarch to appoint an alternative Prime Minister.
THE ROYAL WEDDING – PROVIDING POLITICAL COVER FOR THE UK STATE'S
CROWN POWERS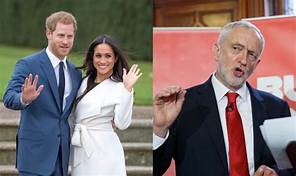 Jeremy Corbyn-  a genuine or a platonic republican?
Although politicians might not have been invited to the royal wedding on May 19th at Windsor, this was definitely a political event. Its purpose was to demonstrate once again the central ideological role of the monarchy – which, as we all know, stands 'above politics', so that it can serve the common interests of the 'entire nation', whatever your class position, as opposed to outsiders. No doubt this is part of the reason why Markle must become British herself. Continue reading "THE ROYAL WEDDING – PROVIDING POLITICAL COVER FOR THE UK STATE'S CROWN POWERS"