The RCN produced its second  RIC Special Bulletin in May. It includes the articles the following articles:
1. What happens after September 18th
2. Support the struggle for real self-determination in a Scottish democratic, secular and social republic
3. Winning internationalist allies in Ireland
_____________
Edinburgh RIC branch proposals to RIC National Forum in the event of a 'Yes' vote on September 18th are appended after the RCN bulletin.
_______
1. WHAT HAPPENS AFTER SEPTEMBER 18th?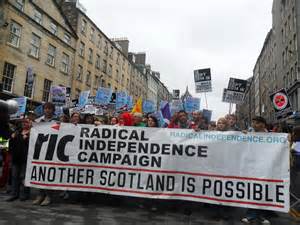 The Radical Independence Campaign has been growing from strength to strength. Beyond the official national SNP front 'Yes' organisation there are many independent campaigns. People are developing a real thirst for political engagement. This will not be sated by putting an 'X' on a referendum ballot on September 18th. People are looking for a new Scotland in a better world.
Continue reading "'Emancipation & Liberation' RIC Special Bulletin, May 2014"