On October 18th  the TUC, STUC and ITUC (Northern Committee) held demonstrations to protest against austerity.
Trade Unionists For Independence (East Coast) distributed the  leaflet below at the STUC rally, It's Time to Create A Just Scotland, held in Glasgow on Saturday, October 18th. It was attended by 3500 trade unionists.
Socialist Democracy (Ireland) wrote the second piece about the demonstration in Belfast. 
1. AFTER SEPTEMBER 18th – BRING REAL DEMOCRACY INTO OUR TRADE UNIONS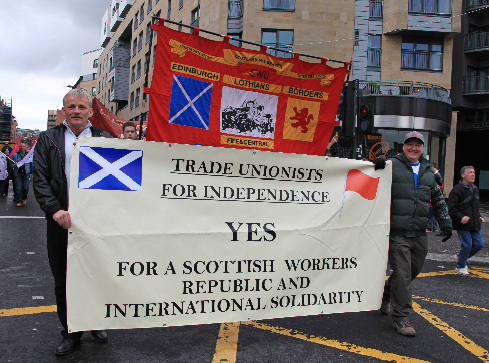 The campaign for Scottish independence has been the largest movement for popular democracy seen in these islands since the Irish War of Independence. In terms of electoral participation it was unprecedented. Voter registration was 97% and voter turnout was 85%.
We faced the biggest ruling class offensive, backed by the UK state, since the Miners' Strike. Only this time it brought together a combined Tory/Lib-Dem/Labour Better Together 'No' alliance, UKIP, the Orange Order, other Loyalists, British fascists, the BBC, the Pope and the Free Presbyterian Church, and the USA and China!
Continue reading "STUC AND ITUC (NORTHERN COMMITTEE) DEMONSTRATIONS ON OCTOBER 18th."