Adrian Kerr, Free Derry – protest and resistance, Guildhall Press, 2013, pp. 224, £11.95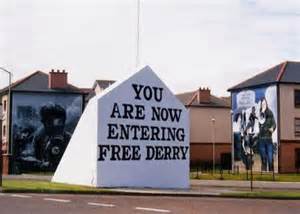 From the declaration of 'Free Derry' on August 9 1971, when the solidly working class and republican community seized control of their own area of the city of Londonderry, to the time of the Provisional Irish Republican Army ceasefire in 1994, the price paid and the degree of resistance mounted within it was hugely inordinate, by comparison with occupied Ulster as a whole.
One hundred and twenty-two people lost their lives in and around the Free Derry area, including 73 civilians and republican volunteers, and 49 members of the security forces or civilians working for them. Over 3% of the total deaths for the whole of the conflict occurred in an area containing less than 1% of the population of the north of Ireland. The largest number of killings were committed by the 'security forces' – 46 died at the hands of either the British army or the Royal Ulster Constabulary, 33 of whom were civilian non-combatants.
Continue reading "David Douglass reviews – Adrian Kerr, 'Free Derry: protest and resistance'."