Allan Armstrong was reading  How the West Came to Rule – The geopolitical origins of capitalism, by Alexander Anievas and Kerem Nisancioglum, as he learned of the tragic death of Neil Davidson. This book was influenced by Neil's work on Uneven and Combined Development at a world scale.
Allan has engaged in several debates with Neil about how Socialists can address Scottish history. He decided to write a review of Anievas and Nisancioglum's book, and look at  aspects of British and Scottish history, through the lens they provide.
Allan  sent this review to Conter. He thought that the second  issue of the magazine would be well served if it had a number of articles  in Neil's memory. However, the Covid-19 crisis has delayed this issue.
THE WEST – NO BETTER THAN ALL THE REST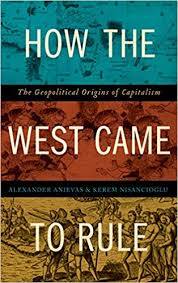 Challenging Eurocentric views of the world
I was reading How the West Came to Rule (HtWctR) when I learned of the death of Neil Davidson. Neil is acknowledged by the book's authors, Alexander Anievas and Kerem Nisancioglu, as one of their inspirers.[1] HtWctR places the Uneven and Combined Development Theory (UCDT) at the centre of its analysis, referencing Neil in doing so.[2] Neil had been making a major contribution to reviving and applying this theory to global history. This led to the conference entitled 'Uneven and Combined Development for the 21st Century' held in Glasgow between the 5-7th September 2019. Anievas addressed this conference, albeit on another topic than HtWctR.[3] Although this conference placed historical development in Scotland under the UCDT spotlight, its contributors also examined historical developments over a far wider arena. HtWctR addresses these developments at the global level and represents the most ambitious attempt I have read to utilise UCDT both historically and geographically, whilst also drawing upon other theories. Continue reading "In memory of Neil Davidson: The West – No Better Than All the Rest"