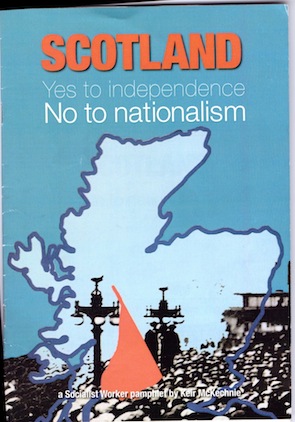 The following extended review of Keir McKechnie's pamphlet, Scotland – Yes to Independence: No to Nationalism, was started before the most recent crisis in the SWP became public. Until the SWP resolves this crisis, its political interventions are likely to have more limited impact on the Left than in the past. Socialists should support those SWP members who are rebelling against their party's bureaucratic and sectarian regime. The whole of the Left will benefit when the shared need for a democratic, non-sectarian and anti-sexist culture is accepted.
But, whichever way the party crisis is eventually resolved (or not), it is still useful to address the specific arguments raised by Keir in his pamphlet, because many have a wider resonance on the Left.  As the SWP moves away from its recent Left Unionist approach to the 'National Question' in Scotland, it appears to be following others in adopting elements of a Left Nationalist approach.
However, with the SWP being at an early stage in this transition, Keir's pamphlet shows elements of both Left Unionism and Left Nationalism. The fact that these two political approaches can live in a symbiotic, and not always conflicting relationship with each other, makes it worth devoting the space to showing some of these connections.
Continue reading "RIDING TWO HORSES AT ONCE – The SWP and Scottish independence"