Emancipation & Liberation is posting this article by James Dennis Hoff of  Left Voices USA about the horrific number of migrant deaths in the EU and USA in 2020.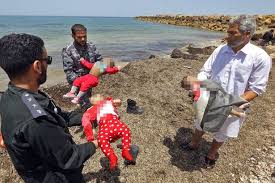 2020 WAS ONE OF THE DEADLIEST YEARS FOR MIGRANTS – AND NOT JUST BECAUSE OF COVID
On December 24, the bodies of more than 20 Tunisian refugees, including at least four pregnant women, were recovered after their boat sank in the Mediterranean Sea. The vessel, which was bound for the Italian island of Lampedusa, was reported to be carrying as many as 45 passengers, but only five people are known to have survived the wreck.
Like the more than 10,000 Tunisians who have attempted to reach Italy this year, these refugees were fleeing crushing poverty, economic deprivation, and a brutal IMF-imposed austerity plan that has caused irregular mass immigration since 2011 to several European countries including France, Italy, and Germany. Tens of thousands of Libyans and sub-Saharan African immigrants, fleeing poverty and violence, have also used Tunisian ports or attempted to reach Europe by crossing the Mediterranean, and hundreds have died in the attempt. Continue reading "2020 WAS ONE OF THE DEADLIEST YEARS FOR MIGRANTS – AND NOT JUST BECAUSE OF COVID"