Following  their disastrous general election showing on the 8th  February,  Fianna Fail and Fine Gael have come up with Ireland's Framework for Government document to try to create the basis for a new Irish government. Socialist Democracy (Ireland) provides an analysis of this.
IRELAND'S FRAMEWORK FOR GOVERNMENT
A Framework for Capitalist Survival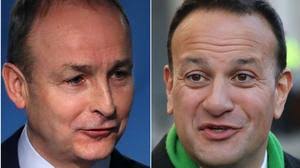 Michael Martin (Fianna Fail) and Leo Varadkar (Fine Gael)
The author Naomi Klein in her book The Shock Doctrine observes that capitalism never wastes a good crisis but always uses one to quietly launch a new offensive.
This is the case with the new Fine Gael/Fianna Fail joint framework document outlining a programme for a new government. Much of the focus is on the vague and general nature of the document, designed to draw in smaller parties and independents who can then write in the sort of minor policy bribe that will bring them into government and secure an overall majority.
The strategic chatter about which parties will cross the line and join the government is somewhat misplaced. The framework says a great deal more about the situation facing Irish capital and its response than the basic algebra of coalition. Continue reading "IRELAND'S FRAMEWORK FOR GOVERNMENT"