The latest in the regular E&L Covid-19 articles was first posted by Socialist Democracy (Ireland) and addressed the post Covid-19 Lockdown situation in Germany.
GERMANY LEADS THE WAY OUT OF COVID-19 LOCKDOWN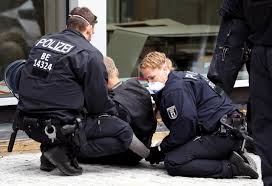 We all know that Germany is the most important State in Europe, the economy is the fourth largest in the world, making up 28 percent of the GDP of the EU.  It may not storehouse much 'soft power' when it comes to cultural markers like music, films and books, that being overwhelmingly American, it still makes the important political decisions for the rest of Europe.
Until recently Germany had a good coronavirus response in comparison to many of its neighbours: Continue reading "GERMANY LEADS THE WAY OUT OF COVID-19 LOCKDOWN"