JERRY HICKS – UNITE GENERAL SECRETARY ELECTION UPDATE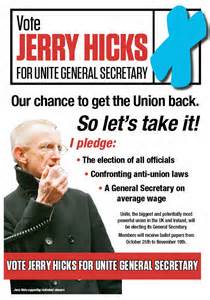 George Osborne said 'Faster deeper' cuts he meant it. Our side calls for strike action against those cuts – but do we mean it?
The announcement that Unite, is calling for a 24-hour general strike against austerity measures is very welcome. A serious program of strikes to defeat the Con Dem government is long overdue and a programme of coordinated strike action is the most effective way to stop them
The 1st April cuts to housing and other benefits will already be bringing more fear, hunger, debt and homelessness across the UK.
20% of the population is in poverty, but will bear 40% of all cuts. Disabled people, 8% of the population will bear 29% of all cuts. In the meantime, tax fraud remains 15 times higher than benefit fraud and the Tories callously blame the poor for their own plight. Demonising workers who they have thrown on the scrap heap.
The Con Dems can only get away with these barbaric measures because our side refuses to organise a real fight that would give people hope of an alternative. Unite must take some responsibility for this lack of effective resistance. The continuing lack of action feeds the Con Dems confidence to widen their attacks on ordinary working people.
Continue reading "JERRY HICKS – UNITE GENERAL SECRETARY ELECTION UPDATE"