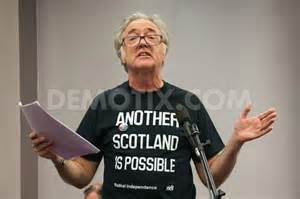 Steve Freeman is the convenor of the Constitutional Commission of the Left Unity Party (LUP). As a member of the Scottish Republican Yes Tendency, disbanded after September 18th, Steve has been arguing for the LUP to take proactive position on the issue of Scottish self-determination and in opposition to the Union.
Steve Freeman addressed last year's RIC conference (http://republicancommunist.org/blog/2013/11/25/2nd-ric-conference-after-the-uk-the-future-of-4-nations/). Along with others from the Republican Socialist Alliance, Steve organised the 'London Says Yes' rally (see http://republicancommunist.org/blog/2014/09/10/to-scotland-with-love-a-report-from-the-london-says-yes-rally-on-september-6th/) on September 6th.
The LUP held its conference between November 15th- 16th conference, but the leadership ensured that the draft constitution was not taken. Despite the LUP leadership's continued appeasement of British Left Unionism, these  proposals for a Commonwealth of England have attracted wider attention. There are now other socialist republicans in the Republican Socialist Alliance, A World to Win, open Democracy, Chartist and Red Pepper who do appreciate the significance of what has been and is happening in Scotland. They understand the need for a united struggle against the UK unionist state and its imperial alliance with the US.
Therefore, in the lead up to the to the third RIC conference, and the session entitled 'Extending Scotland's democratic revival – Linking up progressive movements across these islands', Emancipation & Liberation is publishing the LUP Constitutional Committee's draft Constitution for the Commonwealth of England. Steve Freeman will be at the RIC conference on November 22nd.
_________
DRAFT CONSTITUTION FOR THE COMMONWEALTH OF ENGLAND
Introduction
The Scottish referendum provided an opportunity for the largest constitutional change in the UK since 1922 when the Irish Free State was created. The Act of Union (1707) is one of the pillars of the British constitution and its abolition would have had major and unpredictable consequences for the rest of the UK. A majority of Scottish voters rejected this at least in part because of the promise of greater powers. This has heightened the imbalance in the UK constitution and the contradictions of having a semi-federal system as highlighted by the 'West Lothian' question in which Scottish MPs vote on matters which affect England and not Scotland (e.g. NHS).
Continue reading "A CONSTITUTION FOR THE COMMONWEALTH OF ENGLAND"