Ewan Robertson, an RCN member and a Scots born journalist living in Venezuela, is touring Scotland.  He will be addressing the following meetings:-
Monday April 14, STUC: Joint Scottish Venezuela Solidarity Campaign & others lunchtime Latin America fringe meeting for delegates with speakers including Ewan Robertson, 12.30-1.45pm, Caird Hall, Dundee.
Tuesday April 15, Aberdeen: Public Meeting with Ewan Robertson, 6.00pm, Unite Offices, 44 King Street, Aberdeen, AB24 5TJ
Thursday April 17, Glasgow: Ewan Roberston to speak at 7pm showing of the film Revolutionary Doctors, organised by the Scottish Cuba Solidarity Campaign  & supported by SVSC at the STUC, 333 Woodlands Road Glasgow G3 6NG.
Thursday April 24, Edinburgh: Open eyewitness meeting with Ewan Roberston, 7.30pm, Augustine Church, 42 George IV Bridge, Edinburgh, Midlothian, EH1 1EL.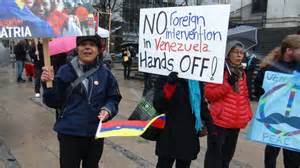 In the article below Ewan contrasts the experience of the Bolivarian revolution with the aspirations of the people of Scotland in relation to the question of Self Determination.
Continue reading "SCOTLAND: WHAT CAN WE LEARN FROM VENEZUELA"