We are posting the two lead articles from Emancipation & Liberation, issue no. 23, produced for the 3000 strong Radical Independence Campaign conference held in Glasgow, in the Clydeside Auditorium on Saturday, November 22nd. The first is by Murdo Ritchie (RCN), the second by Allan Armstrong (RCN).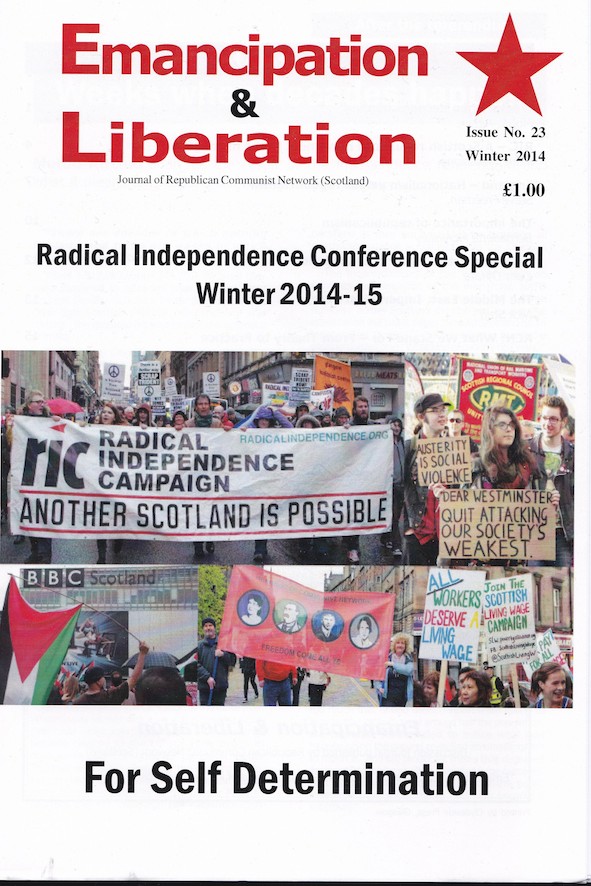 WHEN DECADES HAPPEN – AFTER THE REFERENDUM
"There are decades in which nothing happens and there are weeks in which decades happen." Lenin
When 1,517,989 voters (44.7%) declared they were prepared to abandon their primary, legal national identity to build a better Scotland, it was clear that Scottish national independence was coming. The defeated felt triumphant; the victorious worried.
Prime Minister David Cameron's statement on the morning of the ballot declaration was filled with wishful thinking, "the debate has settled for a generation or as Alex Salmond has said, perhaps for a lifetime. So there can be no disputes, no re-runs –we have heard the settled will of the Scottish people." The media may have declared the result decisive but the numbers and mood told otherwise.
Continue reading "EMANCIPATION & LIBERATION RIC 2014 conference special magazine"