Allan Armstrong argues that the saltire is not a symbol nor St. Andrews Day a celebration which republican socialists, or indeed anyone committed to a multi-ethnic and multi-faith (and non-faith)  Scotland can see as their own. However, he points out that Scottish socialists can still make November 30th their own, whilst flying the red flag. This is an update an article Allan originally wrote for the Lothian SSP bulletin.
Many Socialists feel decidedly uneasy marching behind the saltire flag of the Nationalists. This is a Christian symbol, no longer appropriate for representing the people of a multi-ethnic, multi and non-faith Scotland.  So, how did the saltire, become the national flag and how did St. Andrew, whom the flag symbolises, become the patron saint of Scotland?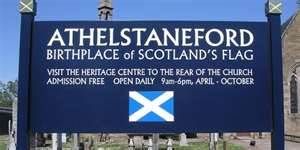 The usual explanation is the following. St. Andrew is meant to have been one of Jesus' apostles. The saltire is in the form of the cross that St. Andrew was crucified on.  When the kings of the Picts and Anglo-Saxon Northumbrians faced each other in battle, at Athelstaneford in East Lothian in 832 AD, clouds in the shape of a saltire appeared. The Pictish king took this as a good omen, and after his victory, it is claimed that he adopted the saltire as the national flag.
Unfortunately, Nationalist historians don't look too closely at the nature of this battle, if it ever took place. There was no Scottish state at the time. Today's Scotland was then divided between areas controlled by Picts, Scots in Dalriada, Welsh-speaking Britons and Anglo-Saxons  – with the Vikings soon to be added to this mix. At Athelstaneford, Picts and Anglo-Saxons would have been fighting about who had the right of conquest over the Britons then living in the Lothians.  A war of national liberation it was not.
Continue reading "BEYOND THE SALTIRE AND ST. ANDREW – FLYING THE RED FLAG ON JOHN MACLEAN DAY"