The RCN, which participated in the setting up of  the Radical Independence Campaign in  June 2012, has been discussing the possible futures for RIC after September 18th. Bob Goupillot and Allan Armstrong have further developed the idea of Movement and Party, first outlined in the RCN's special bulletin for the September 25th RIC National Forum.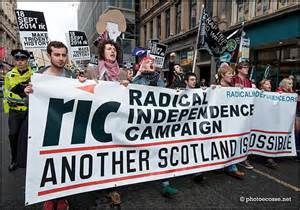 After the battle – the healing has begun
As members of RIC we are trying to deal with the aftermath of a great battle in which we lost our main objective, Scottish self determination, but gained a great deal. We are licking our wounds, healing, reflecting and planning for the struggles of the future. This document is offered as a comradely contribution to that process.
Continue reading "THE FUTURE OF THE RADICAL INDEPENDENCE CAMPAIGN"