E&L is posting an article on the attacks and killing in Glasgow and a letter about the killings in Reading. Both address the issues raised by the treatment of asylum seekers. The article written by  Mike Picken (Socialist Resistance, SSP and Renfrewshire RIC) addresses the  stabbing of six people and the police killing of the attacker, Badreddin Abadlla Adan,  originally from Sudan. The letter was written by Jim Cook of Reading, where Khairi Saadallahas, an asylum seeker from Libya, killed three people. It was first  published by Weekly Worker.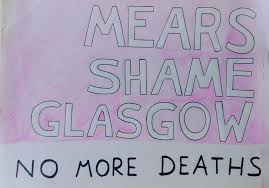 GLASGOW KILLING RAISES MAJOR QUESTIONS ABOUT TREATMENT OF ASYLUM SEEKERS
In a major event in Scotland, one person was killed by armed police in a Glasgow hotel used to accommodate asylum seekers. The call 'not to politicise' the incident from SNP and Labour politicians is completely misplaced.
As the dramatic events unfolded on the afternoon of Friday 26 June, the BBC first reported that three people had been killed in a knife stabbing incident. This turned out to be untrue: six people including a police officer were seriously injured and hospitalised, while the apparent perpetrator was shot in a rapid and large armed police response in Glasgow city centre. Continue reading "GLASGOW AND READING KILLINGS RAISE MAJOR QUESTIONS ABOUT TREATMENT OF ASYLUM SEEKERS"