Dave Douglass reviews Steve McGrail and Vicky Patterson's Cowie miners, Polmaise colliery and the 1984-85 miners' strike. 
COWIE MINERS, POLMAISE COLLIERY AND THE 1984-85 MINERS' STRIKE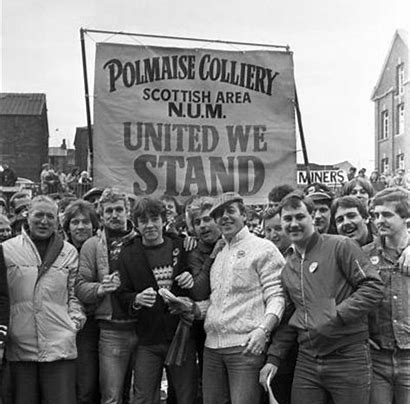 Great Strike of 1984-85: an unequal battle
Polmaise was at the epicentre of the Scottish miners' action in 1984. Like Cortonwood it was among 'the first of the first' to be threatened and pick up the gauntlet – the 'single sparks' that lit that prairie fire.
The struggle at Polmaise had started in February 84, and for those men and their families it ended 13 months later. The new, 'get tough' management style introduced into the Scottish and other coalfields prior to the Great Strike was a deliberate policy to prematurely kick-start the all-out action and break our long-term overtime ban strategy, which was relentlessly reducing stocks of coal at pitheads and power stations. There had been controversial closures in 1982 and 83, and half of Scottish mines were already engaged in forms of action around various disputes by February 84. Polmaise itself was out over the threatened closure of the pit. Continue reading "COWIE MINERS, POLMAISE COLLIERY AND THE 1984-85 MINERS' STRIKE"