Pete Seeger was one of the most important artistic figures of popular revolt in the 20th century; Gearóid Ó Loingsigh of Socialist Democracy (Ireland) provides his own tribute.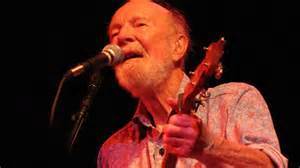 The last great troubadour of the 20th century has passed away.  Pete Seeger died on January 27th after a short illness at the age of 94.  He became, during his lifetime, a living legend and like most legends, even their enemies lay claim to them in death.
Seeger was born into a well to do family, far removed economically from the working class or small farmers he would immortalise in music and song and whose causes he made his own.  His father studied at Harvard University and Pete Seeger also attended Harvard for a while, where he studied alongside JFK.  Seeger dropped out of Harvard after a short period.  However, whilst there he joined the Communist Party's youth wing.  He remained a member up till the late 1940s.  He would later break with Stalinism, even going as far as to take part in an event in support of Solidarnosc in 1981.