The results of the election for the General Secretary of UNITE election have been announced. This was a contest between the incumbent Broad Left Len McLuskey and the Rank & File challenger, Jerry Hicks. McCluskey had the support of the Right (they offered no challenger of their own, which speaks volumes) and much of the fake Left; Jerry  the support of  most genuine socialists.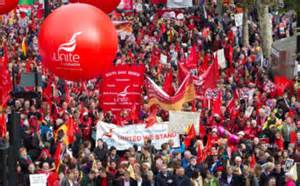 May I take this opportunity to thank everyone who did so much during the election campaign. From the nominations, to leafleting, to voting and to all the many inventive things between. Click to view Video clip www.youtube.com/watch?v=FZexz0AjZPk for a post election thank you.
All that effort meant that an ordinary member of the biggest union in the UK and Ireland was able to stand, challenge the establishment and get nearly 80,000 votes, almost 40%, voting for a more democratic union, for a more positive fight against the cuts and job losses. We also stand on the side of the 1.4 million who feel nothing for the business as usual 'renewed mandate' and turned their back on the election.
An historic vote for a 'Rank & File' grassroots candidate, made all the more remarkable when taking into consideration what was waged against us. We kept true to our policies, beliefs and politics with our dignity intact, while their campaign spiralled into the gutter.
Continue reading "We did not win but we are now the Left in UNITE"