This article from Left Voice (https://www.leftvoice.org/we-fought-trump-time-to-fight-biden-too) in the USA criticises those  illusions in Joe Biden, similar to those in Sir Keir Starmer, who believes he can be pressured from the Left. Biden was bankrolled  by major sections of Wall Street finance and Silicon Valley and these are the interests he will serve.
WE FOUGHT TRUMP, TIME TO FIGHT BIDEN TOO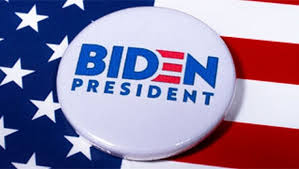 At long last, it has been announced that Joe Biden has defeated Donald Trump for the presidency. While none of us will be sad to see Trump go, Joe Biden and Kamala Harris are no friends to the working class and the oppressed.
After five days of Election Day, five days of counting votes, five days of CNN electoral maps, and five days of learning about every single county in Pennsylvania and Georgia, the United States has it's newest imperialist in chief: Joe Biden. Continue reading "WE FOUGHT TRUMP, TIME TO FIGHT BIDEN TOO"